Book Forty Five 2014: 
We Have Always Lived In The Castle by Shirley Jackson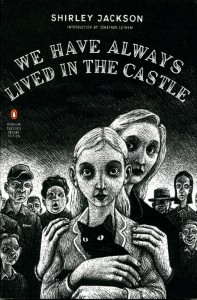 This is just delicious. Straight up it reminds me on so many levels of Iain Banks The Wasp Factory that his incredible book must have been influenced by Shirley Jackson's much earlier work.
A troubled teenager living in relative isolation in a large, creepy house with strange "parental" figures near a small town, the belief in the protective power of burying and hanging up items around the house, the slow reveal of a dark, terrible moment in the past.
For me too, there were elements of Night Of The Hunter to it was well (only me?), 30s noir, Victorian gothic and too many other gorgeous things to go into individually.
It's one of the most vivid books I've read this year, it had been sitting in the "to be read" pile for far too long…
A note on the edition I have – it's the republished Penguin Classics one from a few years ago and is a little work of art in itself. Look at the pages…