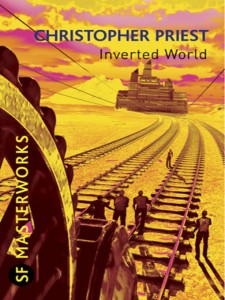 Part of my reading habits over the last couple of years has been to make small piles of older books that I feel I should have read a long time ago. Christopher Priest falls squarely in that category, where better to start than with his book in the Gollancz's SF Masterworks series?
The premise is beautifully, brilliantly bizarre – Helward Mann lives in an enormous city called Earth on an alien planet colonised by humans. The city must constantly move on tracks across a vast desert being laid as fast as possible by teams of citizens or else it will be crushed by a slow-moving gravity field that follows it. The humans are desperately awaiting rescue.
I'm not telling you any more. You don't need to know. JUST READ THE BLOODY THING! It is not what you think, it was not what I thought, it is an impossibly elegant narrative of human struggle, particle physics, just sheer bonkers reality and a brilliant coup de théâtre for a finish.
Even though the book itself is almost as old as I am, I have rarely come across SF this brilliant, involving, head-twisting, original or thought-provoking. Few people even try.
I urge you to read it – it is a thing of incredible originality and one of the best novels in the genre that I have ever come across.