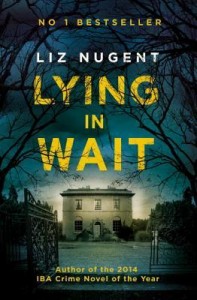 Now that I look back I can't believe the randomness that brought Liz Nugent's debut novel Unravelling Oliver to my attention (read about it here).
With Lying In Wait, as with the last time, she grabs you by the throat with the first line "My husband did not mean to kill Annie Doyle, but the lying tramp deserved it.'" – I defy you to not want to read on from there. No spoilers, in fact I'm not even going to give you a plot. Just read it.
As much as I adored and pressed the first book into the hands of many in the months after I read it, Lying In Wait is a completely different beast. As I finished the last page I actually stood up and gave a round of applause to my empty sitting room. Seriously. While her first book may have been her calling card in the rapidly expanding and very exciting current world of Irish writing, this baby is the equivalent of beating down the door, walking through the house with muddy boots on and then planting her flag firmly in the middle of the back garden.
She writes compellingly, creates posh Dublin sociopaths like no-one else and, revealing nothing, as with all good authors she doesn't flinch when the end demands what it demands. I wouldn't get on the wrong side of her if I were you…
Lying In Wait is a story you genuinely should not miss, one of the best Irish novels of the year so far and, much as I loved Unravelling Oliver, this is a much better book.
Grab it for your holliers, you won't regret it.