Book Sixty Four 2014:
Detroit – An American Autopsy by Charlie LeDuff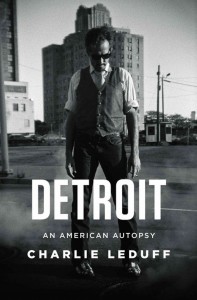 One I picked up in the excellent City Limits bookstore in San Francisco. You know a book is going to be vivid when a man's frozen legs are found sticking out of a block of ice at the bottom of a lift in a disused factory and it's shrugged off as nothing new. That it is that way in a major American city is the rub of this thoroughly believable/unbelievable story.
It's a vivid, gritty, nasty, no holds barred report of a journalist returning to his native Detroit to live and how he sees one of the poorest places in America, how the city fell from its once glorious heights and just how far it has fallen.
Empty rotting factories, corruption in a bankrupt city, firefighters dying in houses set alight for the insurance money, even people setting houses on fire for kicks as it's cheaper than tickets to a movie.
Bleak, great, and a huge exercise in pulling back the curtain on 21st century America.