Book Sixty Seven 2014:
The Rosie Project by Graeme Simsion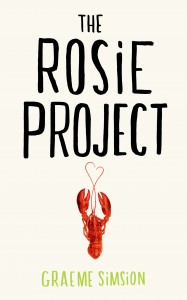 This was a wonderful, pleasant surprise. It's probably the sort of thing I would never have picked up by myself (don't ask me why – cover?) but it was one of the 6 I flew through while on holidays recently and I'm glad it made its way to me via my wife who got it from her friend Annette.
It's the story (the first in a series, there's already a number 2) of Don Tillman, a professor of genetics with Asperger's Syndrome who sets out to design a questionnaire that will find him the perfect mate.
Simple as. It's gentle, very funny in places, warm, sweet, unsurprising and a perfect antidote to the harder, longer, more serious and non-fiction stuff I also read while I was away.
Lovely stuff.