Book Eighty Seven 2014:
The Spectre Of Alexander Wolf by Gaito Gazdanov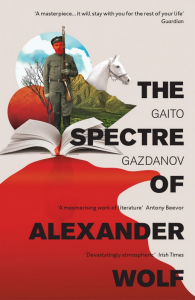 The story is that of a man reading a short story who realises it's about the one time he killed someone and that the only person who could possibly have written the story is the man he killed.
No, it's not supernatural, rather the story of extraordinary coincidences and scattered lives in the Europe of the early 20th century. It's a short, memorable story full of character and place that ties itself together at the end beautifully and would fill a quiet afternoon quite nicely indeed.
Comparisons are made on the cover with Camus' The Outsider, I can see that. If that was your sort of thing, then this might well be too.
Would love to read some more from the interesting Pushkin Press list it comes from.