Book Eighty Three 2014:
The Undertaking by Audrey Magee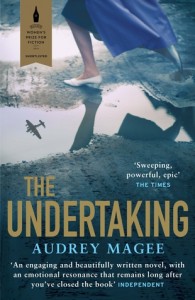 Again, as with so many books since the beginning of this odyssey, this one was recommended to me and is something I might not have taken up otherwise. They're all turned out to be thoroughly worth the read.
Before I tell you who recommended this to me, a little context. I was backstage getting ready to take part in the Hero Hour event for Radio 1's Arena. I'm quite shy in rooms of quite famous, gregarious and literary people as this one was (David Norris, Mary Coughlan, Sinead Gleeson). I got talking in the corner to a lovely guy who introduced himself by saying "oh yeah, thanks for saying the nice things about the books. I'm Donal".
Time passed very slowly. I'm terrible with faces. I hadn't seen this one before. What seemed like an eternity later I realised I was talking to Donal Ryan, author of 2 of the best books I've read this year in The Thing About December and The Spinning Heart.
Morto.
As part of our eventual chat he recommended the above. I'm so glad he did.
It begins with a German soldier on the Eastern front in World War II getting married in a field by a priest to a photo of a woman he's never seen. He does it for leave, she does it for the pension she'll get if he is killed. The story moves on from there.
This is a cracking book. Characters are beautifully written and real, the brutal realities of Peter's life on the front trying to take Stalingrad are in stark contrast with the circles in Berlin that Katharina finds herself because of her father's close ties with the upper echelons of the Nazi regime.
I love finding stories that illuminate great events in history through the eyes of small stories. This is one of them. One of my favourites of the year so far.