Book Forty Seven 2014: 
On Such A Full Sea by Chang-Rae Lee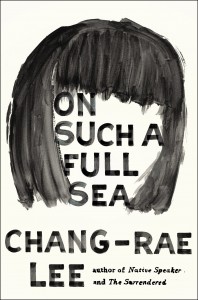 This book has been *incredibly* frustrating. It came recommended, looked intriguing, even made it onto the Guardian's list of the best books of the first half of this year, yet I feel like I've wasted my time in reading it.
It's set in a post-apocalyptic (sort of) U.S. where the Charters live in the swanky settlements, the workers live in places like B-Mor (where Fan, the main character, comes from) and then there's the wild, lawless rest of the country.
The language is ethereal and almost pointlessly philosophical in places, the characters alternately fascinating and then almost silhouettes of themselves. I dozed off with my eyes open a few times… I had hopes too because although the book starts slowly it takes a real upswing in the middle but then just sort of fizzles off near the end in a way that left me wondering if the previous almost 300 pages would have been better spent doing something else.
Shame.