Book Ninety Five 2014:
Not That Kind Of Girl by Lena Dunham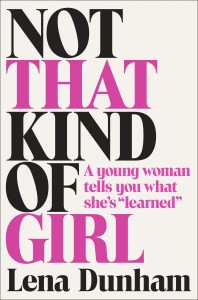 Part David Sedaris-style observational pieces about her life with elegant phrases, part her own (bonkers at times) life backstory, part manifesto for life, I presume your interest in this very much depends on whether you like what Lena Dunham does in life.
I do, parts of it are very funny, parts quite sad, parts are almost unbelievable, parts are incredibly intimately confessional and there are parts where I wonder why I'm reading an e-mail exchange in full between two people I don't know and will never meet. I get everything I've seen in Girls a little bit more now.
Still, thoroughly enjoyed it and would recommend it very much if she is your kind of girl.