Book Ninety Six 2014:
All My Friends Are Superheroes by Andrew Kaufman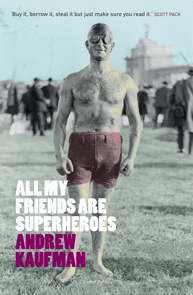 I've read a couple of his books in the past, in this I have rarely come across something with so many brilliant vivid ideas in such a small space.
Tom is a regular guy all of whose friends just so happen to have one superpower or another (many of them very, very strange). He marries The Perfectionist and on their wedding day she's hypnotised by one of her ex-boyfriends into thinking he's invisible.
As beautiful and bonkers as you might think it would be. I *love* what goes on in his head.