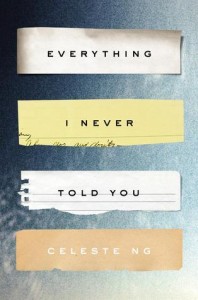 (This is one of a series of shortened reviews as I have so many to catch up on!)
Celeste Ng's novel of a Chinese-American girl whose body turns up in a lake near her house in the late 1970s has all the stock elements you'd usually find in such a story – the corpse, a lake, cops, suspects (including a bad boy) but that's not what this book is about.
This is a beautifully crafted story of those left behind, primarily Lydia's father James and her mother Marilyn, their relationship before Lydia's death, and particularly after. It's about Lydia too, but more the mystery she appears to be and the black hole of detail that her life seems to have been even to her family and those who thought they knew her.
Hugely readable, just don't expect a conventional thriller of whodunit. This one if far more complicated and rewarding than that and it's only a matter of time before someone wrenches all the subtleties out of it by making a poor movie version.