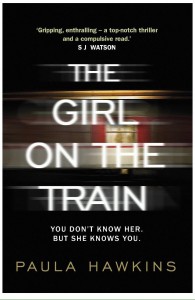 Following in my long tradition of not ruining the plots of books for you before you've actually read them, all I'll tell you about The Girl On The Train are the bare bones.
Rachel takes the train into work in London every morning. It usually stops at the same set of points opposite a row of houses where she sees a couple out on their balcony or through their windows. She names them Jess and Jason, even through she doesn't know their real names. One day she sees something that shakes her, and the imaginary world of their relationship that she's built up in her head, to the core.
This is very impressive stuff and not just because the central narrator is someone who we come to realise fairly quickly has huge problems and isn't the nicest person to have in your life. That makes this all the more interesting and three-dimensional.
If there's one tiny fly in the ointment it's that I thought the ending was going to go one way. A brave, shocking, rarely taken path (no spoilers here, don't worry!) and, ultimately, it went somewhere else.
Then again, if I want books to finish the way I want them to I should just write one, right?
The Girl On The Train isn't the sort of thing I would have picked up myself. I'm hugely glad I did. It's a great debut.