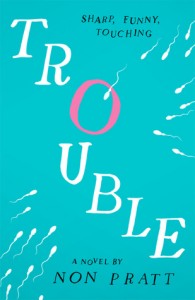 Hannah is the teenager that finds herself pregnant, Aaron is the loner new lad in school who finds himself volunteering to pretend to be the father of her child, but why?
This one is definitely in the top half of the list, the characters read true, quirky and unusual. Just like real teenagers. The story is non-conventional too – Hannah is pregnant but not by who we think, Aaron steps in even when he's not sure why and the fledgeling relationship that develops between the two of them is quite sweet.
Sharp, funny, touching, as it says on the cover.
(Trouble is one of the books I judged for the UK & Ireland YA Book Prize 2015)