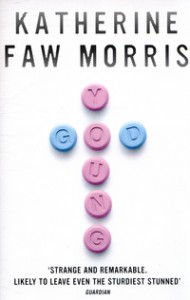 I'm not sure I could ever use the word "enjoy" to describe Young God. It's remarkably akin to being hit sharply across the head with a box set of the first series of True Detective.
Nikki is 13 when her mother falls from a cliff and she goes to find her absent father in his remote trailer and continue her family's drug trade in the redneck Appalachians. She's abused by her dead mother's boyfriend, takes drugs copiously and participates in cutting up a body with an axe. Amongst other things.
This one is hard to quantify for me. I came away beaten, ragged and sort of brutalised by what I'd just read, but to me that's such a rare event in literature it's something to be embraced in itself. Do not, however, because of the age of the chief protagonist mistake this for YA no more than you would do the same for A Clockwork Orange. It's very much not.
It's a swift (only just over 200 pages), savage, dark, dizzyingly prosaic in spots, nasty, vivid and, at times, dazzling distastefully icky tale. That doesn't mean you shouldn't read it – I recommend it, but be aware that it will be way too graphic and amoral for some.