Book Seventy Eight 2014:
Us by David Nicholls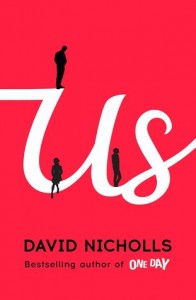 This was my October book to be read in my FB Book Club and the first that I've read along with everyone else. Kind of glad I did.
It tells the single summer story after Connie announces to her husband Douglas that, as their teenage son is leaving home and going to college, now might be a good time for them to go their separate ways. They have, however, organised a Grand Tour trip of Europe with their son (as was the style in the 19th century) to show him Paris, Amsterdam, Florence and all the great artworks of Europe.
I've never read him before but it's hard not to stumble on movie adaptations of his previous books as I have (Starter For Ten, One Day). I thoroughly enjoyed this on every level. It's a sweet (if slightly unconventional) story of how they get together in the first place and why Douglas doesn't get why Connie would ever want to leave him (the quote on the back cover pretty much encapsulates it:
"I was looking forward to us growing old together. Me and you, growing old and dying together."
"Douglas who in their right mind would look forward to that?"
I've seen some people questioning why exactly they even get together and going to the point of suggesting that two people like that would never end up married. I think they may be working to the rules of conventional romantic fiction rather that the real life experiences of human beings.
The story of the fractured relationship between Douglas and his teenage son is genuinely real too. It moved me to tears more than once.
You should read it.