Book Sixty Five 2014:
The Maltese Falcon by Dashiell Hammett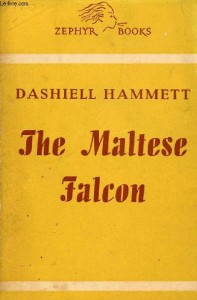 First things first – this is the cover of the actual edition I own. It's from 1946 and is a little thing of beauty I got in a second-hand store in the U.S. a couple of years ago.
Second thing second – I've never seen the movie. I know, I feel the hot shame of your disapproving gaze already. To be fair to me it's one of the few classic movies of the 30s and 40s that I haven't seen. Didn't stop me form having Bogart, Peter Lorre and Sidney Greenstreet in my head while I read…
I love this. Hammett, Raymond Chandler, Horace McCoy, James M. Cain, I even have a beautiful book of noir short stories of the 20th century edited by the brilliant in the genre James Ellroy (I'll be reviewing Perfidia, his new one, soon).
The gumshoes are gruff, the villains slimy, the femmes very fatale. This is one of the best of the genre – you should dip your toe in the waters…