Book Sixty Three 2014:
Colorless Tsukuru Tazaki and His Years Of Pilgrimage by Haruki Murakami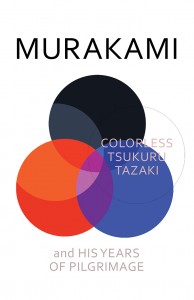 There are two kinds of readers in the world; those who don't like Haruki Murakami and those who are wrong. Sort of…
He is a marmite proposition, either you find his gentle wanderings through the slightly surreal, occasionally bordering on the supernatural lives of usually solitary Japanese people and their cooking habits hypnotic or you just think he's a nonsense merchant.
I'm in the former. This one is by no means as good as the likes of Wind-Up Bird Chronicle or the monster and incredible 1Q84 trilogy but it's still a thoroughly enjoyable meditation on the nature of  one moment of schism in the lives of a group of incredibly close kids in a provincial Japanese city and where their lives lead as a result.
Might not be a bad place to start if you've never read him before.