Book Sixty Two 2014: 
Pure Imagination by Mel Stuart & Josh Young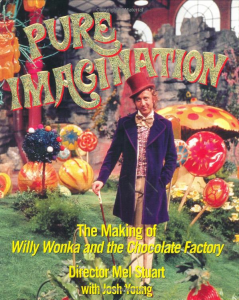 To be honest, this probably isn't one you're going to stumble across as it's over 10 years old at this stage and I found it in the book section of Amoeba Records in Haight Ashbury in San Francisco, still…
I've had a minor league obsession with the original movie version of Willy Wonka for years and this is a very decent trawl back through the production with the director himself. Nice behind the scenes pics, stories on who was cast and why (they originally spoke to Joel Grey for Wonka and only didn't cast him because he was too short!), why they filmed it in Germany and how it was almost shot at Guinness in Dublin!
For fans, but then who isn't?