Book Fifty Four 2014: 
Munich Airport by Greg Baxter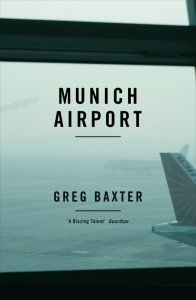 And this could not be more different from the book that I read for number 53…
I suppose whether you like it or not depends on your tolerance of small, human stories that centre around families and main characters that, like many written in modern fiction, are loners and live quiet lives of introversion and introspection. I suppose I always wanted to be one of those characters so that worked out perfectly for me…
The whole novel is told in a series of flashbacks while the main, unnamed character is sitting fogbound in Munich Airport with his father and a representative from the U.S. consulate in Germany as they wait  for a flight to repatriate the remains of his sister who appears to have starved herself to death in her flat in Berlin.
I thought that, although it's a little unnecessarily descriptive in places, it's a beautiful, small, internal meditation on the nature of life, family and the dark world of anorexia amongst many other things.
Enjoyed the way he writes very much too; reminded me a little of Camus' The Outsider. Must dig out his earlier novel The Apartment, have only seen good things about it.