Book Fifty 2014: 
In The Miso Soup by Ryu Murakami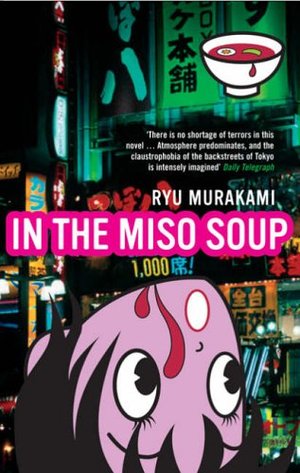 I've been going through a Japanese thing in recent times, mostly because of the work of the other, more famous Murakami, a collection of Japanese sci-fi I bought a couple of years back, my love for Japanese cinema and my wont, some day, to go there.
This does pretty much exactly what it says n the cover up there – it's the story of Kenji, a guide for sex tourists in late 90s Tokyo and Frank, a client he meets just before New Year's Eve who he comes to believe may be a serial killer…
Look, it's nothing like Haruki (1Q84 is still easily in my all-time top 10), but still this is a solid, evocative, nasty novella of the dark side of gaijin tourism at the time.
Solid, doesn't outstay its welcome and would make me want to read more.