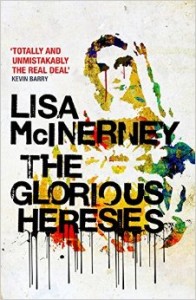 If you ever read here regularly you'll know how much I hate summarising books, so I won't, save to say it's set in modern-day Cork in a world of crime bosses, teenage drug-dealers, drug pushers, prostitutes, accidental murderers and long-term love and family all wrapped up in incredibly real, fallible, rare human characters. Love/Hate it's far from though. Think more along the lines of Goodfellas or The Godfather on the Lee.
This is, joyously, in that tiny sliver of books I read every year that I press on to people and insist they read. It fizzes, it crackles, it kicks you in the balls on a fairly regular basis, peels away the layers of what could have been dull stereotypes and it stuffs you to the gills with the most edible prose of the "read it again and again just to savour it" variety. Stylistically, even though they're two different books, I kept being reminded of Kevin Barry's City Of Bohane (a comparison I hope she won't mind, it's a huge compliment). I hope I read a better Irish novel this year but I'm not sure I will.
I was ever so slightly reticent in reading the book to be honest. Lisa has written a hugely acclaimed blog in the past and even wrote a post or two for a group blog I used to run back in the Jurassic age. The talent of one frequently doesn't transfer into the talent of the other. Now I'm just wondering why she wasn't writing brilliant, brutal, cruel monsters like this for years instead of faffing around on the internet 😉
It's been a genuinely brilliant couple of years for first-time Irish women authors and this one sits right alongside the first novels of Sara Baume, Audrey Magee, Louise O'Neill, Liz Nugent. However, make no mistake, The Glorious Heresies would take every last Irish book written for years in a scrap down a dark dirty laneway.