Book Eighty One 2014:
Time's Arrow by Martin Amis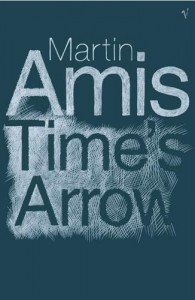 My wife picked this up after hearing him talk about it on his RTE Radio 1 Arena interview recently and after we both read The Zone Of Interest. I wonder how I would have felt about the new book if I had read this first?
It's the story of the life of one man from the moment after he dies back to his birth told in reverse chronological order and, as usual, that's all I'm going to tell you as you shouldn't have the series of reveals across his life ruined for you.
Yes, I know this book is almost 25 years old but part of the 100 books project this year was to read things that I should have read and never seem to have gotten around to. I'm so glad I did with this. It is exquisite, entertaining, chilling and forces you to re-evaluate even the most mundane parts of a human life because you're watching them being told in reverse.
Time's Arrow is genuinely funny too – the number of things that we take fully for granted that are laugh out loud when you reverse the order they happen in are myriad (even sometimes the horrific ones.)
A gem and an absolute must-read. Never outstays its welcome either – I had it read in an afternoon.