Book Forty Two 2014: 
I Think Therefore I Play by Andrea Pirlo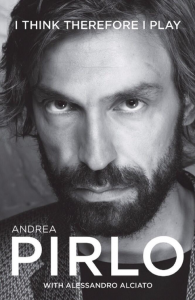 I pretty much never read sports books. Ever. That doesn't mean I'm not a lifelong football fan and that I show the occasional odd interest in other sports when something interesting is happening but the idea of reading a professional sportsperson's autobiography doesn't rank very highly on my  list of things to be done this week.
So why this?
Well, firstly there's Pirlo's beard. He commands your attention from the moment you see the cover. The quotes on the back are pretty interesting too – he reads a little like a parody of himself with a dash of Eric Cantona thrown in.
That plus I need to broaden my reading horizons.
If you have absolutely no interest in football this probably isn't for you, but if you do he's part entertainer, part self-publicist with a God complex, part tattletale about what goes on in Serie A. That last bit even includes a section of who has extensive bowel movements before games as one of his superstitions.
Short, doesn't outstay its welcome, interesting enough.