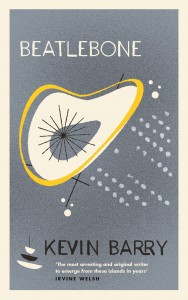 Beautiful.
Beatlebone is the most fantastic work of whatiffery – John Lennon comes to Ireland in 1978 to try to escape from crushing fame, the expectation of the world and, conversely, the domesticity of New York fatherhood by trying to get to an island he bought and let lapse into abandonment off the west coast in the late 60s. His foil, driver, spirit guide, aide-de-camp and the one tasked with both getting him there and hiding him from the pursuing press is local man Cornelius O'Grady.
I'm no expert, but his Lennon sounds pitch perfect on my page (I felt like reading him out loud at times) and his relationship with Cornelius is warm, adversarial and in places just laugh out loud funny. As always with Kevin Barry, even the real world isn't real. Journeys are seemingly never-ending taking Lennon circuitous routes back to growing up in Liverpool, past almost mythical bars on the side of ancient lakes and hippy communes in abandoned hotels.
Yes, I did think it lagged a little about 3/4 of the way in (actually after Barry himself beautifully steps into the narrative and talks about writing in the locations we've already seen) but it's a small speedbump.
After reading him both in novel, hearing him on radio and seeing him write articles in newspapers (if you didn't catch his "The View From A Pagan Place" in the Irish Times last December, do yourself a favour and click here) I imagine Kevin Barry as some sort of 21st century bard both entirely a part of the modern world but with the ability to shift outside it at will when he needs to write things like this. Yes, there are sometimes whole sections you'll need to reread, they are so beautiful.
He is, pretty much, the most nakedly talented writer Ireland has today. Long may that continue.