Book Seventy 2014:
Me Talk Pretty One Day by David Sedaris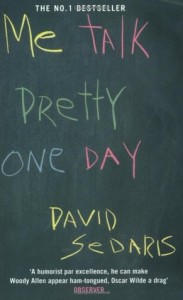 This one is brief.
You either like David Sedaris or there's something wrong with you.
This is an earlier collection and isn't as good as his recent Let's Talk Diabetes With Owls or the brilliant When You Are Engulfed In Flames but still has all his wry, sometimes laugh out loud funny, observational takes on the world around him (even if this one is a bit heavy on the childhood stories).
One for those working their way through the back catalogue.