Book Sixty Eight 2014:
Time Present And Time Past by Deirdre Madden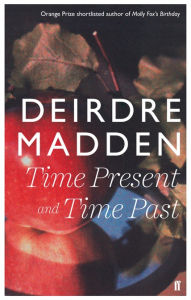 This was a little moment of unexpected loveliness on my holidays after it was recommended to me by a friend.
It's 2006 and Fintan works in the middle of the Celtic Tiger even if he's not one of the bad guys. He's in his 40s, pedestrian, a little dull, until at least he starts experiencing hallucinations as a result of his interest in early colour photography. It's about his family too, his wife and mother and the story that brought this sister home from working in England to live with her aunt and uncle.
I know I'm not selling it well, but the novel is about just that – lives, moving slowly mostly with one or two moments of high punctuation. It's beautifully told, captivating and another of the series of perfectly told novels of modern day Ireland that will be our documents of just how people lived in the first part of the 21st century.
You should read this.