Book Sixty One 2014: 
Station Eleven by Emily St. John Mandel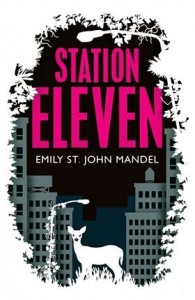 Lovely stuff.
Station Eleven is set in a world about to be beset by a pandemic that will destroy 99% of the world's population in 2 weeks and in a group called the Travelling Symphony who, 15 years later, travel small remaining scattered townships playing music and performing Shakespeare.
It's one of those stories (The Road or the TV show Survivors) where the only threat to people after civilisation falls is other people. It's sometimes a far more entertaining and hard to write proposition that a world where zombies, vampires or the like are around every corner. Loved this.
Her characters are her real strength here – real, vivid and full of life, most ironically in that of the ageing actor Arthur Leander whose death we witness in the first few pages.
My only one small criticism of the book is that it doesn't bring much new in terms of ideas to the end of the world. Having said that I asked myself a bit later "would I criticise a strong, well-written, entertaining, thoroughly enjoyable book set in the present day for not bringing much new to the world as it is?". Well, no, of course.
Nit. Pick.