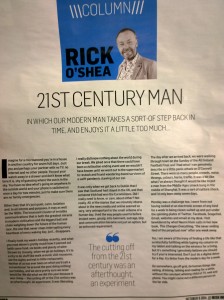 Imagine for a microsecond you're in a house in another country for seven full days. Just you and your partner with no TV, no internet and no other people. You put your watch away in a drawer and don't know what time it is shy of guessing where the sun is in the sky. You have no idea what's going on anywhere in the outside world and your phone is switched on once a day for 2 minutes just to make sure there are no  family emergencies.
Other than that it's just quiet, calm, isolation and, to all intents and purposes, it may as well be the 1920s. The incessant cluster of invisible communications that is both the greatest miracle in modern civilization and the biggest ball and chain weighing down the future of the human race, the one that never stops interrupting every heartbeat of every waking day just… disappears.
I finally took my week's holiday recently and what you read above is pretty much how it panned out (with some food, 6 books and plenty of wine thrown in). Usually any time we go on holidays it's to a city to do stuff like walk around, visit museums, try the sights and eat in little restaurants. Neither of us has ever been on what you'd call a conventional "lie around the pool doing nothing" sun holiday and we were pretty sure we never would be. We did what we did this year because it was cheap – the cutting off of the 21st century was an afterthought, an experiment. It was liberating.
I really did know nothing about the world. We joked once that there could have been a civilization ending event and we wouldn't have known until we went out to the supermarket to restock and found wandering dazed survivors of a swift pandemic clawing at our car.
It was only when we got back to Dublin that I saw that Scotland had stayed in the U.K. and that someone Irish had won the Euromillions. Did I really need to know or care about either? Not really. All of the stories that we minutely obsess about in the news media and online seemed so very, very unimportant in the small scheme of a human day lived the way people used to before instant news, gossip, infotainment, outrage, blip and communication became not just an option but an enforced requirement.
The day after we arrived back we were walking through town on the Sunday of the all Ireland Football Final and I had what I can genuinely describe as a little panic attack on O'Connell Street. There were so many people, crowds, noise, throngs, colours, horns, traffic. It was a bit like what I've always thought it would be like to put a man from the Middle Ages smack bang in the middle of Shanghai. It was a sort of culture shock and I'd only been away 7 days.
Monday was a challenge too. I went from not having looked at an electronic screen of any kind for a week to being clown-suited up and put under the spinning plates of Twitter, Facebook, Snapchat, Gmail, websites and e-mail at my desk. I felt bewildered by what Naomi Klein calls in her new book 'This Changes Everything' "the never ending feed of the perpetual now" after one week away.
Yes, I am aware of the irony of finding a life like that so blissfully fulfilling while typing my column on my tablet and talking on the wireless for a living, but it's something I genuinely believe you should try if you're interested. Don't just do a digital detox for a day, try detox from the modern day for a week.
Go somewhere, go off grid, do human things like eating, drinking, talking and reading for a while without the constant whining child of TV, web and phone.
You might come out a different person on the far side.
(This column originally appeared in Insider Magazine in the Irish Independent)